Steps in crowdfunding for research
The steps below outline the crowdfunding process prior, during, and following the crowdfunding campaign. Figure 2 provides an overview of public engagement strategies in each of these steps in a crowdfunding campaign process.
Pre-Campaign
Gather stories from end users and local communties
Identify networks interested
During Campaign
Speak at Public Events
(Digital, In-person)
Share details with local communities
Post-Campaign
Give back to backers
(Updates, gifts)
Disseminate findings
Foster new relationships

Pre-Campaign
Informs pitch with quotes, images and video
Informs promotion plan
During Campaign
Drives micro donors
Spreads awareness of the research project
Post-Campaign
Expands network
Creates base for next campaign
Figure 2: Public engagement prior to, during and after the campaign
1. Define the scope of the study
Prior to launching the campaign, the crowdfunding study should be defined and contextualized. Discussions with experts and key informant interviews can increase the rigor of the science. It is essential to engage with the end users or beneficiaries community of the project to build trust in the study and campaign. Reading what is already published in the mainstream media, how well-informed the public is about the topic as well as what relevance the project will provide to the broader context must be ensured.
2. Identify the campaign audience
Backers are critical to lead a successful crowdfunding campaign. They are individuals or organizations who share common interests and a sense of belonging to the community related to the research team, the idea and the institutions. Mapping out the potential audience within and beyond the local context early is important. For instance, one could campaign in collaboration with groups in different regions working on the same disease of interest. Identifying diverse stakeholders who share common interests and collaborating with them to identify public engagement channels is paramount. Working with institutional champions and universities are useful ways to achieve wider reach. Key stakeholders could include patients and the public, providers, purchasers, payers, policy-makers, product makers and principal investigators.
3. Plan & design the campaign strategy
Once the overall idea and audience are finalized, a more specific campaign strategy can be established. Some important considerations to plan and build the campaign strategy include the following:
a) Create a plan for engagement
Communication is key in crowdfunding campaigns; therefore, you need to choose engagement strategies that will move the audience or spark their interest. Developing the campaign information, a video pitch, rewards (if necessary) and familiarizing with commu-nication platforms are basic considerations while planning a campaign. Having additional support from organizations such as hospitals, academic institutions, research centers, scientists (local and international) and public institutions is equally rewarding.
For instance, advice can be solicited on crafting the campaign and dissemination of materials or information from communications experts in these institutions. Some key elements are described in Figure 3.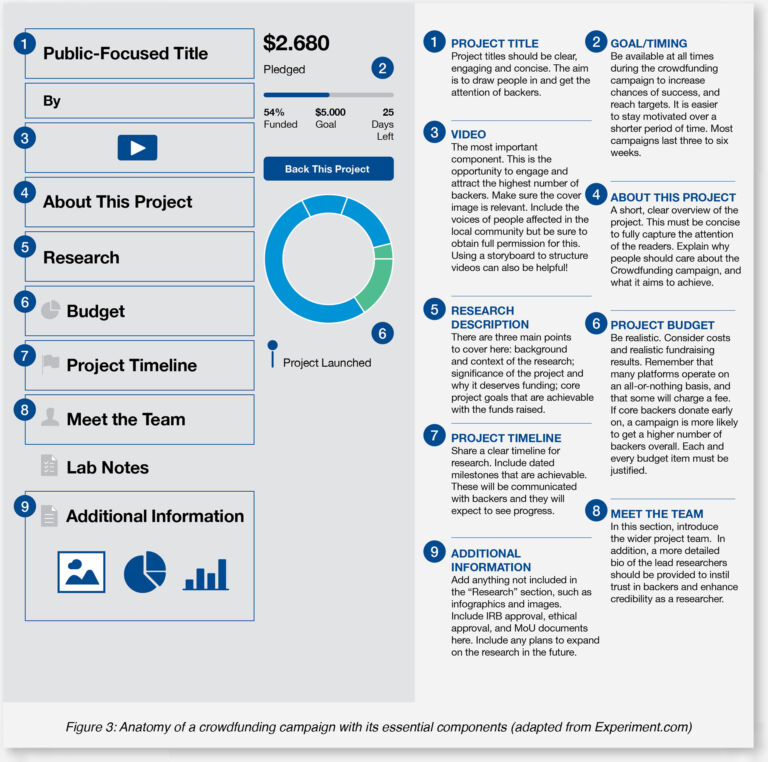 The campaign information should be clear, avoid jargon and capture the element of why instead of the technicalities of how the project is being conducted. It must appeal to the general public because this is the foundation for the campaign. Furthermore, when indicating the amount of desired funds, being realistic and transparent can help to ensure trust and clarity among supporters.
Creating a video is a useful way to connect with the audience on a more personal level. A good video has an engaging storytelling component. Some important considerations include the length, sound, language and content of the video:
A video must be short and should grasp the public's attention.
Selecting appropriate music or sound, keeping the video quality clean and addressing the funding target and/or requests for other types of contributions are essential.
Incorporating local languages in the video as subtitles can expand the campaign's reach. Some creators may prefer to use their local language and use English subtitles instead.
Including quotations and testimonials from beneficiaries can be helpful to contextualize the research.
Most crowdfunding for research campaigns do not have tangible rewards, but they can provide an opportunity to add value and attract more supporters. Rewards can come in the form of products, services and recognition. Acknowledgements in publications, written thank-you postcards, photographs of the community, community-created crafts or recognition in social media are all meaningful rewards.
When planning and preparing for the campaign launch, it is important to keep track of the budget and expenses. A transparent budget is a show of accountability for the backers. Planning the budget using spreadsheets or other project management tools to keep a record of resources needed and up-to-date expenses are useful approaches. For instance, keeping note of the cost of rewards, platform charges, communications and travel expenses, among others can be helpful. Including a financial report from the host organization can be useful.
Once the audience is studied and identified in Step 2, a clear record of the network must be kept: categorize contacts, identify potential influencers and create mailing lists. These networks could be initiated through reaching out to current/former colleagues, friends and family, social media as well as open events and forums engaging students, researchers, local public and bloggers.
b) User-testing the campaign
Before launching the campaign, testing out the ideas with the potential backers may enhance engagement. Evidence suggests that bidirectional communication between researchers and the public can bridge the gap between science and society, spurring engagement. It is worth obtaining feedback from beneficiaries, potential backers, and institutional champions to quantify the impact of the problem on the local community.
c) Choose a crowdfunding organizer
Crowdfunding organizers are groups that host campaigns and connect creators to potential backers. Organizers may be external (open for anyone), internal (e.g., university/institution-based), or a hybrid of external and internal (Annexes 1, 2, 3). More details are provided in Table 1.
Table 1: Advantages and disadvantages of using external, internal and hybrid-led organizers for a health research crowdfunding campaign.
External
(Online-based private platform)
Ease of campaign organization: funds are collected from donors through the platform.
Transparency: all the required information is clearly displayed on a well-designed online page.
Platforms may increase a campaign's exposure,  especially if the platform is dedicated to health research.
Advertising: improved ability to link the campaign to social media and gain media attention.
All-or-nothing models protect researchers if they are unable to reach their targets.
High organizer fees (can range from 5 to 9% of the final amount raised).
Payment processing fees (usually around 3% of each donation).
Freedom to organize and advertise the campaign is limited to the platform and website layout.
Difficult to incorporate cash donations and involve individuals offline.
The campaign is published amongst many other campaigns on the platform, which could distract funders away from the research.
Internal
(University or other institution)
Most universities that offer researchers to crowdfund their projects are all-or-nothing, meaning there is a higher guarantee that the research will come to fruition.
Institutional backing can improve funders' trust in the researchers and their projects.

Ease of communicating with backers and advertising the campaign through a recognized online page.
Only university-registered researchers can apply to raise funds.
Institutions also have processing fees and administrative charges.
Funding targets tend to be very high and unsuitable for smaller pilot projects.
Difficult to incorporate cash donations and involve individuals offline.
Maybe more difficult to engage backers that are not affiliated to the institution.
Hybrid platform
(online+institution/others)
Higher credibility for the campaign.
Both monetary and non-monetary
support such as providing access to contacts and media outlets outside the platform reach.
Higher promotion and prestige for the institution as a result of engagement in research advocacy.
Ability to collect funds through various modalities (international transfer, cash donations, online transfers) with the support of the institutional departments.
The researcher has a stake of institutional reputation and therefore must display the campaign information and targets in an accessible and transparent way.
No standardized way to regularly communicate and share results with backers received from two different channels.
Difficult to track the identity of offline backers.
4. Launch the campaign
After the campaign plans have been finalized and the ethical review committee approval has been obtained, the campaign can be launched. Following the launch, assessing social media analytics related to initial promotion messages can help to tailor content.
5. Update the audience
An important part of campaign management is also providing information on the status of the project to the backers which may include updates on budget, funding targets and research outputs through online updates and/or in-person meetings. This phase demands a significant amount of effort and attention from creators who must ensure they respond promptly. Connecting regularly with the public allows opportunities for creators to better understand their audience. Furthermore, sustained engagement helps build awareness about the research topic.
6. Foster relationships
Once the campaign ends and the results are finalized, the creator delivers on commitments such as sending rewards to backers, disseminating research findings, and nurturing local relationships.
After the campaign, there is an exciting opportunity to collaborate with the resulting network to potentially co-create new research projects.